Visual observation and pic of Andromeda's Parachute quasar with OVNI-M
New success for Martin Fiedler who used his OVNI-M eyepiece to observe and image Andromeda's Parachute quasar. Here are Martin's comments :
« Most fascinating for me was the observation of Andromeda's parachute on the 24" Dobson, a gravitational lens splitting a quasar 11 billion light years away into four parts. Visually without OVNI-M three components could just be seen indirectly as a curved structure, with the OVNI-M and extended focal length even a split into three components could be seen, the middle one appeared a bit brighter. The fourth component was not visible. In the following night I tried to image the structure via Deep-Sky Lucky Imaging (500*0,1s exposure time, Player-One Saturn-M). Then even the faint fourth component was visible. »
See his pic made in Germany with his 600mm telescope compared to the pic with the 1.8m Pan-STARRS telescope in Hawaï.
The full image FOV can be seen on the OVNI Night Vision Astronomy - Users Group : www.facebook.com/groups/182425852846835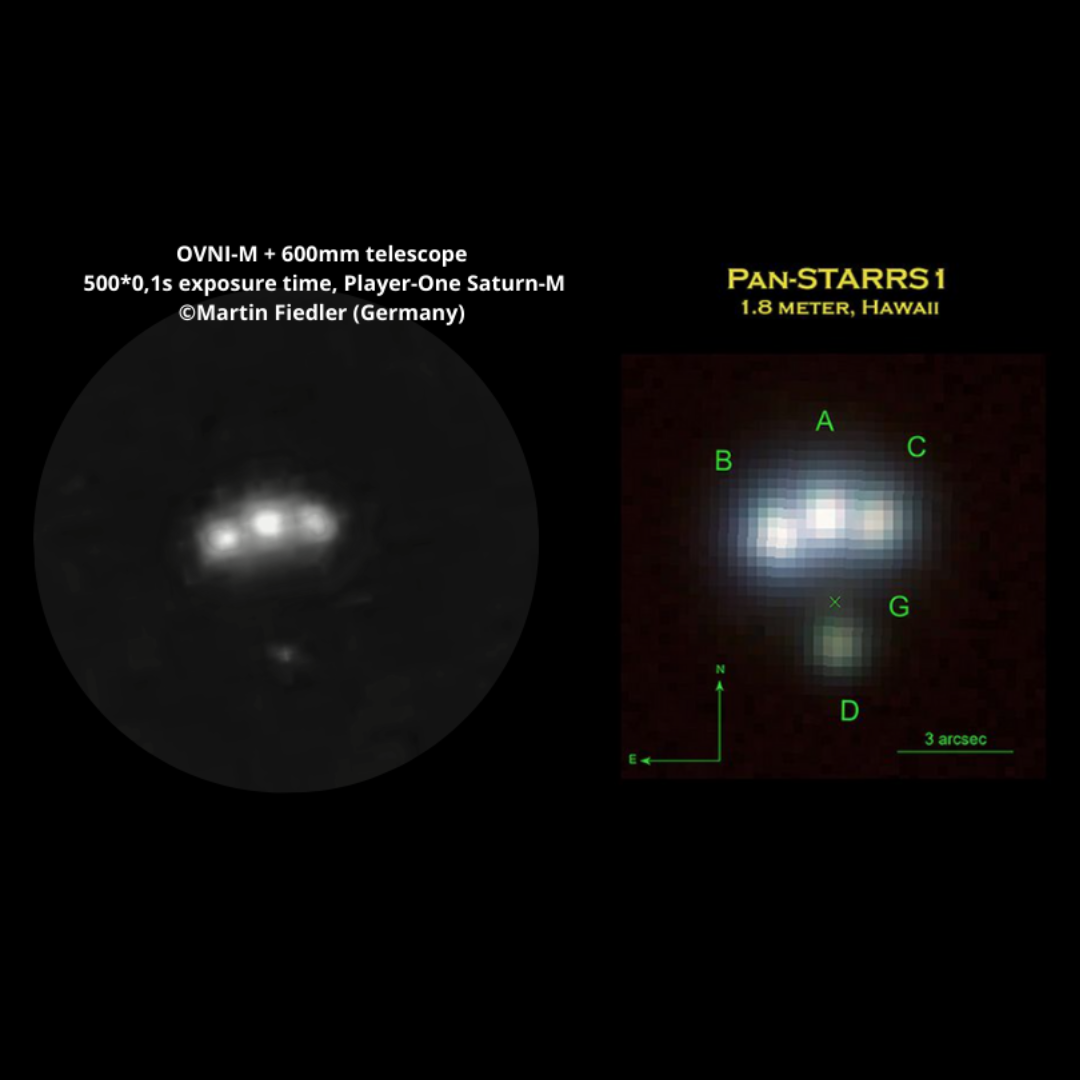 Related posts
Important ! Older publications

Posted in:

Customers & Observatories

,

Media - Magazine, Radio, TV...

,

Products - OVNI-M, OVNI-B, Accessories

,

FAQ - Tutorials - Guides

,

Miscellaneous

,

Photo Gallery

,

Events - Demos, Conferences, Trade Shows

,

Scientific Research Amateur and Professional

04/06/2023

Access past publications from 2019, 2020, 2021, 2022 and 2023 with or without a Facebook account.

Read more